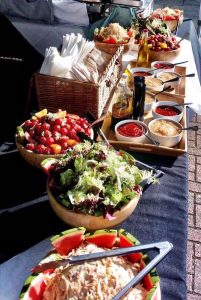 After almost 30 years in the business, the Hog Roast Staffordshire team are the most knowledgeable and experienced hog roast catering company in the whole county. From rural retreats to city centre celebrations, we travel far and wide catering for clients in all different sorts of settings. We are constantly developing our ever-growing repertoire of menus and we can provide fabulous food that is suitable for any occasion. Here at Hog Roast Staffordshire, we always strive for perfection and we are very proud of our reputation as a catering company that has impeccable standards of food and service.
Our Multipurpose Machines
Hog roasting is a deceptively versatile way of cooking, especially when Hog Roast Staffordshire are at the helm. Our creative catering team and cutting- edge equipment allows us to prepare not just premium hog roasts, but also a variety of different meats, potatoes and vegetable dishes without having to bring everything but the kitchen sink with us. This allows us to give you the best quality food available in any location of your choosing, whilst also being excellent value for money.  We have an unrivalled range of hog roasting machines in our armada and we always select the most suitable one for each event we cater for, depending on the number of guests we are feeding, the menu you have chosen and the venue for your special occasion.
Mixed Menus – Perfect For Every Tastebud
The versatility of our cooking equipment is matched by the scope of our menus.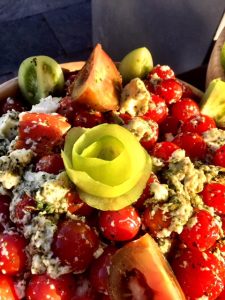 Whether you want a large buffet for several hundred people or you are hosting a smaller party that requires a complex 3 course menu with a touch of finesse, Hog Roast Staffordshire can do it all. We can even provide a selection of handmade canapes complete our own professional team of front of house staff to serve them, which is always an incredibly popular option for wedding receptions and company conferences. We can also take the stress out of your day by catering for guests who have different dietary requirements and you can choose for a tasty range of vegetarian options, as well as gluten-free alternatives. All our ingredients are fresh and locally-sourced from reputable suppliers whom we have excellent relationships with, and every dish on your menu will be prepared from scratch by us on-site.